Laude San Pedro student is a YouTube HIT phenomenon!
11/12/2017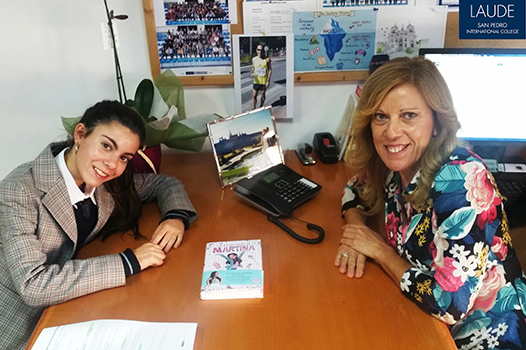 Martina D´Antiochia is an ESO1 Laude San Pedro student who at only 12 years of age, has become a YouTube phenomenon. Her successful YouTube channel ´La diversion de Martina´, that features fun adventures, DIY and comedy sketches, has over 1.6million subscribers and has been rewarded a YouTube Gold Play Button.
On Monday 20th November, our school principal Remedios López Padilla interviewed Martina. She spoke about how she began her Youtube channel 2 years ago and how due to her success, she was approached by an editorial to write a book. Martina is now on her 3rd edition and she looks forward to merging her creativity and becoming a successful author and actress.
To add, on Friday 24th November, Martina gave a reading and presented her book to our YR3 students at our fantastic school library. She explained how she started her YouTube channel with her parents consent and how her school life here at Laude San Pedro has played a huge role in her book writing - where she mentions her school friends, her lessons and describes the different areas in our school such as the garden, red pitch, green pitch, gym and dinning area. Watch the interview here: https://www.youtube.com/watch?v=cSfQ0uWjkuk
Following this, Martina and her friends took a tour and filmed around our school. This, alongside her interview with our school principal, will feature as an episode on her popular YouTube Channel - how exciting! Stay tuned for more news to come…
A personal note from Martina;
´Hello my name is Martina, I study in Laude San Pedro, I am 12 years old an dI have a YouTube channel. When I started my channel it was all about DIY but as time went on, I realised that viewers really enjoyed my challenges, blogs, cooking and comedy sketches and this is why I decided to call my channel la diversion de Martina - because these are takings that I enjoy. I now have over a million subscribers and I have just written a book about my adventures that I make up in my free time´.
YouTube: www.youtube.com/channel/UCAcbF4O0xq7LeuOl2Pwt2_A
Facebook: www.facebook.com/ladiversiondemartina/
Instagram: @la_diversion_de_martina
Book: www.revistacomotu.com/tag/martina-dantiochia/