Joëlle Castro receives France's highest honour
15/01/2020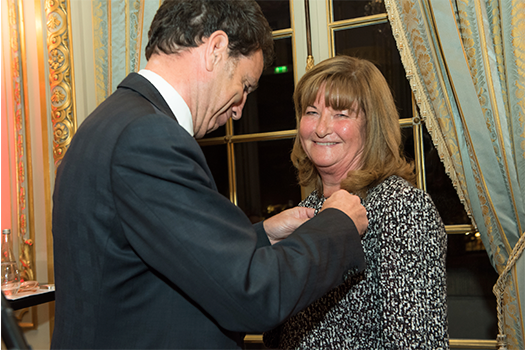 On 22 October 2019, Joëlle Castro, Director of Mobilitas, was presented with the award Chevalier of the Legion of Honour by the French government.
The Legion of Honour is the highest French decoration and one of the most famous in the world. For two centuries, it has been presented on behalf of the French Head of State to reward the most deserving citizens in all fields of activity. The status of Chevalier is the equivalent of a Knighthood in the British awards system.
Joëlle Castro is the daughter of Sarah Rosette and André Isaac Taieb who started AGS in 1974. She and her brothers Alain and Gilles are still directors of the business today with her son, Cedric Castro, its chairman.
The French government bestowed the award because of Joëlle's tireless work as a French trade adviser, for her work in encouraging new talent throughout industry and as an advocate for women in business, for her outstanding work with children's charities, and as part of the family that has built one of the international moving industry's leading family firms.
As a French trade adviser, Joëlle used her international experience to mentor French enterprises to help them towards international success. Joëlle also worked closely with the Volunteer for International Experience (VIE) scheme, run by the French Trade Commission, to help young people gain valuable international work experience. This included employing around 300 young people from VIE within the Mobilitas group.
In 2013 Joëlle founded the Women Business Leaders Network in the Val d'Oise region of Paris, dedicated to helping women start their own businesses. "It's very different for women," she explained. "Women feel they have to work twice as hard as men to be recognised in business. I don't know why, but it's true." In 2014 Joëlle helped create the LACMA Ladies' group in 2014, that brings women from the industry together to discuss business and to raise funds for children's charities. She also gives her time to help other children's charities in France.
The award was presented by Geoffroy Roux de Bézieux, the president of MEDEF, a leading network of French entrepreneurs, at a reception held at the Shangri La hotel in Paris on 22nd October. Joëlle was accompanied by members of her family including her husband, Ronald, her son Cedric, and her mother. The following day the company held a reception at the AGS office in Paris for staff and business partners.
Joëlle said it had been a complete surprise to be nominated for the Legion of Honour. "I didn't do any of this for an award," she said. "For me it was so natural to do what I have done. This is a family business and despite everything that has happened, I'm still a mover at heart. That's why I love this business so much. The award is for all of us."