Business Networking event in collaboration with CaixaBank
24/11/2021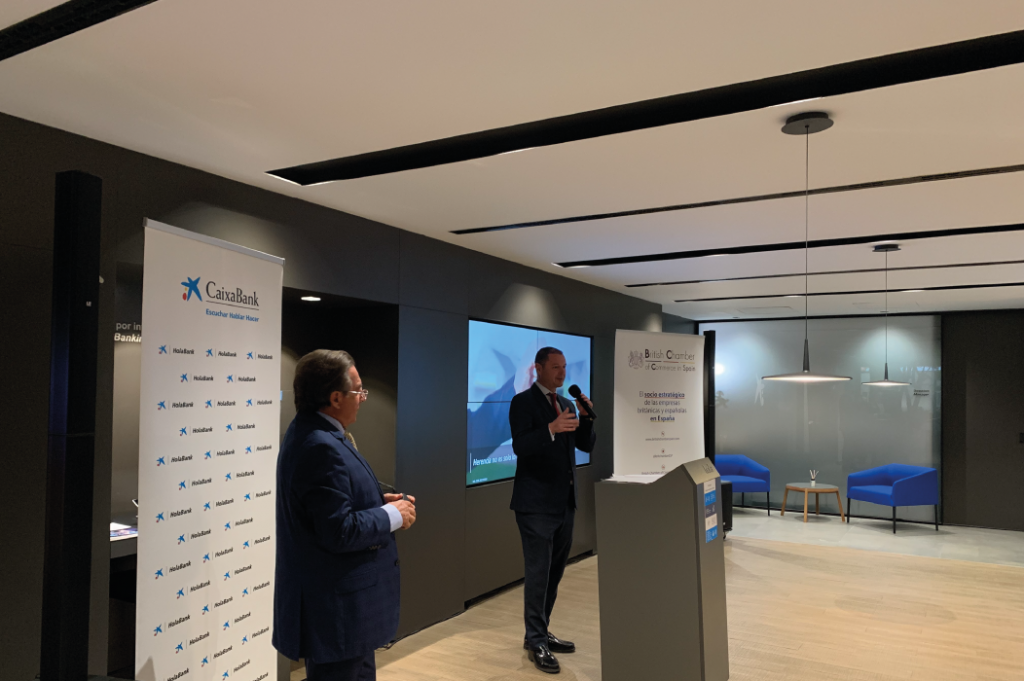 CaixaBank have been corporate members of the British Chamber of Commerce in Spain for over 15 years, and are continually very active. They have previously hosted meetings and events in Madrid, Barcelona and Andalucía. Most recently, CaixaBank collaborated with the Chamber to host a Business Networking Cocktail in their flagship branch on Avenida Ricardo Soriano in Marbella.
We welcomed members both old and new, special guests, and also clients of CaixaBank. Regional Vice President of the British Chamber of Commerce in Spain, Derek A. Langley gave a warm welcome to around 50 guests, and emphasised the importance of the continued relationship between CaixaBank and the Chamber.
He continued by highlighting the significant relationship between Britain and Spain, emphasised by the figures revealed at the British Investment in Spain Barometer that was held on 17th and 18th November in Madrid and Bilbao respectively, led by the Chamber´s British Investment committee. Particularly, that the UK invested 895 million euros in Spain in the first half of 2021, and currently sits with France and USA in the list of biggest investors in Spain. Most importantly for the region of Andalucía, it received the second largest amount of FDI from UK, after Madrid, over 139.1 million euros. Additionally, Madrid and Andalucía combined benefitted from 70% of FDI in the first half of 2021.
The market looks very positive for those who operate mutually in Spain and the UK, as the Barometer revealed that those who were asked about investment plans in Spain, 46% of UK companies plan to increase them in 2021, and 76% foresee that they will also increase in 2022.
Our speaker Derek A. Langley then introduced Gerardo Cuartero Simarro, the Commercial Director for Málaga, Almería, Gibraltar, Ceuta y Melilla at CaixaBank, who also spoke of the partnership between CaixaBank and the Chamber, and how it will continue this way for years to come.
Gerardo was pleased to tell attendees the important work that Fundación la Caixa do to support society, with 30% of their overall profits being invested to in the Fundación to be able to do beneficial work for communities and Spain, and also internationally.
The evening was a very productive and effective networking session for all attendees and new business opportunities were created for many. This event is one of many that the Chamber holds across Spain, and is very important for our members and invitees.
We would like to thank all our members for their support, and hope to see you at our final event of the year, our annual Christmas Cocktail in collaboration with Gilmar Real Estate on 16th December in Puerto Banús.
If you would like to attend, please RSVP to andalucia@britchamber.com or +34 634 648 945