Ferroleterra: A gastronomic adventure on Spain's most dramatic coastline | Northwest Iberia Wine Tours
26/02/2018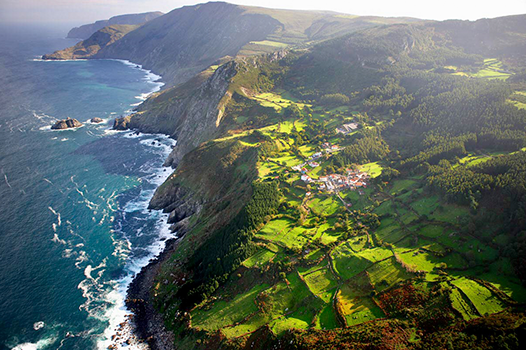 This three day wine and food adventure takes you to the most northerly vineyards in Spain. In this far-flung outpost of Iberia a small cadre of passionate winemakers are busy reviving the fortunes of the scarce Blanco Legitimo grape. For many years it was considered to be close relative of Albariño. DNA tests however have proved that they are two genetically distinct varieties. In terms of aroma, it's somewhere between an Albariño and a Gewurtztraminer with heady hints of ripe lime, lychee, mint, fig and orange. Some of the finest Blanco Legítimo wines go through malolactic fermentation, prolonged lees contact and barrique ageing thus creating richer, broader, full bodied wines. It's also commonly found blended with verdejo but in Galicia, where it's also known as raposo, there's a strong belief in its monovarietal possibilities. Regarding pairing, it's goes well with smoked oysters, smoked sardine fillets and rich shellfish dishes such as moules marinière. On the tour we'll meet two of these 'wine whisperers' to learn first hand about their approach to sustainable viticulture in a challenging environment and why they are focusing on such a rare varietal in the first place. At each vineyard the winemaker himself will conduct the tasting, very often directly from the barriques or vats.
Why Galicia?
This beautiful part of Spain may not have the searing heat of the south but the glorious coastal scenery, the wines, and reputedly the finest seafood in the world are proving more and more popular with the more independent-minded traveller. You could be forgiven for thinking you're on the west coast of Scotland or Ireland, with its long, wide steep sided rías or sea lochs, pine and eucalyptus dotted headlands, immense stretches of pristine white sands, lighthouses, fishing villages and Europe's highest cliffs at San Andrés de Teixido.
The base - Ferrol
Our operations base for the tour is the port city of Ferrol, synonymous with the military, namely the Spanish Armada. Described by the British Admiralty in the 18th century as the finest deep water harbour in the world, and one of the most heavily defended, it remained a prize in all of Britain's naval campaigns against the Spanish till the early 19th century. Today it is the home base for the country's state-of-the-art F100 frigates, the most technologically advanced battleships of their class afloat. In Ferrol we'll visit the Castillo de San Felipe fortress and then go for tapas in some of the town's traditional taverns, noted throughout Galicia for the freshness of their fish and seafood.
Up to Cape Ortegal
The countryside immediately to the north of Ferrol is absolutely stunning. Huge, unspoilt beaches at Valdoviño, Frouxeira, Pantín and Vilarrube attract the surfing crowd and anglers throughout winter with the picturesque port and resort of Cedeira being very popular with vistors in the summer months. Close to Cedeira is San Andrés de Teixido, an ancient pilgrimage site very popular with trekking enthusiasts and birders drawn to the Serra da Capelada with its herds of wild ponies. This remote though pretty village lies at the foot of Vixía Herbeira, the highest sea cliff in continental Europe at well over 620m (2,000ft).
While in Cedeira we'll visit a traditional bakery to see how the famous empanada de Cedeira is made. Empanada, a pie usually made with wheat or corn flour dough, is found everywhere in Galicia, but the ones from Cedeira stand out and have somewhat unusual fillings such as conger eel and salt-cod and raisins. For lunch we'll enjoy tapas at a bar-restaurant famous throughout Spain, where the town speciality is grilled mako shark and fries/chips. This single dish pulls in devotees from far and wide. We'll also sample the town's most famous seafood export, percebes or gooseneck barnacles. Percebes are quite expensive as it's a life and death challenge to gather them from the cliff face amid huge crashing waves.
No visit to Galicia would be complete without a visit to an artisanal gourmet seafood cannery. An amazing array of seafood delights such as mussels, cockles, young sardines, razorclams, sea-urchin caviar, tuna, garfish, octopus, squid etc are processed exclusively by women in an industry which is one of the pillars of the Galician economy. The tour includes a degustation of the gourmet line, all accompanied by a nicely chilled Albariño, of course!
INCLUDED
Airport transfers (La Coruña LCG).
Hotel Carris Ferrol 4* (double room en suite with breakfast included).
Three gastronomic menus paired with wines from all five of Galicia's appellations.
All transport (19 seat AC Minibus).
Admission to all historic sites.
Winery tours and tastings.
Empanada workshop and degustation in Cedeira.
Gourmet seaweed plant with degustation and cookery workshop.
Services of fully bilingual guide throughout the tour.
NOT INCLUDED
Flights to/from destination airport.
All non-host ordered food and drinks.
Maximum group size: 12
Availability: All year round. Contact via email for more information.
Price: From 300€ per person/day based on double occupancy.
Contact: info@northwestiberiawinetours.com