An event to raise the roof at Laude San Pedro in support of Aldeas Infantiles SOS
30/04/2018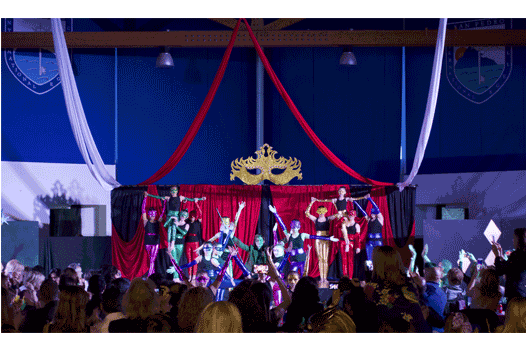 On Friday 16th March, the Annual Charity Ball at Laude San Pedro had audiences completely spell bound as performers not only took to the stage, but were suspended from the roof of their impressive Sports Hall as they entertained guests at the 5th annual Gala event.
A number of special guests, including Directors from the investing company, International Schools Partnership, witnessed the excitement of children, staff and parents as they were entertained by pupils who performed a variety of acts including singing, dancing, a fashion parade, gymnastics and a stunning aerial aerobics display.
Many special prizes had once again been donated by local businesses in support of the Children's Charity Aldeas Infantiles SOS and these were expertly auctioned during the evening by Charles Marchand, the Interim Head. The whole evening was professionally compared by Trevor Barnett, Head of English and Adele Blaney, who introduced the acts and also took part in performances themselves. Mr Chris Smith, the Head of Secondary said, "It is always a pleasure to see the months of hard work and preparation by staff, students and the local communities pay off, in what was indeed an incredible evening. What is even more of a pleasure is to see so many people enjoy and appreciate it, making all the behind the scenes work so worthwhile."
Special thanks were extended to Jorge Musimessi from Gymnastic Club, Hayley Cronin from Marbella Aerial Fitness for creating such amazing routines and to D & Rose Boutique for the elegant Fashion Show. Many thanks were also extended to the sponsors who enabled the School to hold the auction. Guests enjoyed delicious tapas kindly prepared and donated by Ginza Restaurant and Aramark. Parents proudly watched their children taking part showing great confidence, talent and skill. They were a real credit to their parents and to the School.
Highlights were also captured by Nicole King of Marbella TV who regularly Support the School and who interviewed a number of guests during the evening.
It is hoped that the event will have raised in excess of €6,000 for Aldeas Infantiles SOS. The final amount will be posted on the School´s Facebook page soon.