Lecture from the Arts Society at Hugo Investing in Marbella
02/05/2023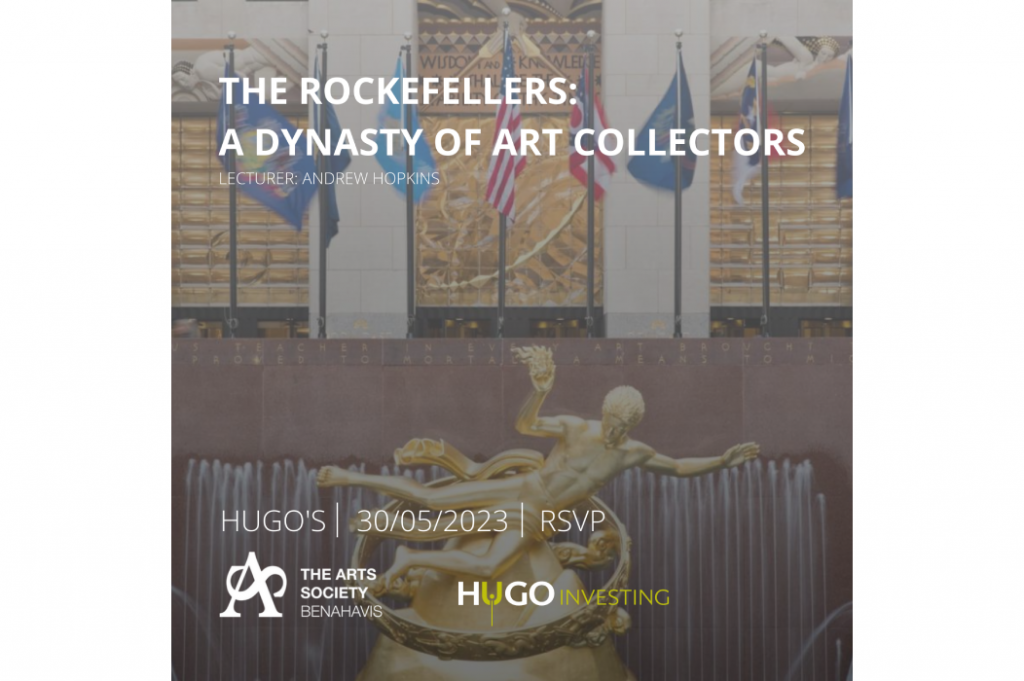 The Rockefellers a Dynasty of Art Collectors
Renowned art historian, Andrew Hopkins, will deliver a lecture on the Rockefellers, one of the most influential and wealthiest families in the USA, at Hugo Investing on 30th May at 18.30. Organised by The Arts Society, the event will explore the family's legacy as art collectors and patrons of the arts, as well as their shameful family secrets.
Andrew Hopkins is a highly respected scholar and Associate Professor at the University of L'Aquila. He previously served as Assistant Director of the British School at Rome and has been awarded numerous accolades for his groundbreaking research in architectural history.
During the lecture, Hopkins will provide an insider's view of the Rockefellers' art collection, which includes an impressive array of impressionist masterpieces and their philanthropic contributions to the Museum of Modern Art, MoMA. He will also share some of the family's most closely guarded secrets and scandals based on his personal experiences while working at Harvard University. To conclude the event, Kaspar Huijsman, CEO of Hugo Investing, will shine a light on the extensive and most impressive investments of the Rockefeller family over history.
The lecture is open to the public, and tickets, including a welcome drink, are priced at 12 euros. This is a rare opportunity to gain insights into the fascinating world of one of the most powerful families in American history and their enduring influence on the arts.
Limited seating
Reserve: https://hugoinvesting.com/the-rockefellers-event-by-the-arts-society/
Date: Tuesday 30th May 2023
About Hugo Investing
Hugo is a regulated broker offering a secure bank account with Saxo Bank, a Danish bank under the protection of the Danish Financial Supervisory Authority (FSA). Clients get access to three cutting-edge trading platforms and unlimited coaching from a team of experts. Hugo's team has been helping investors in Spain for 17 years. Drop by anytime on the Golden Mile in Marbella.
https://hugoinvesting.com/ Information about the lecture and for the press:
Copyright-free images are available upon request.
The Arts Society Benahavis
Email: programmebenahavis@theartssociety.org
Website: https://www.theartssocietybenahavis.com/