Five reasons why studying Business English will benefit you | Boost Academy
02/05/2022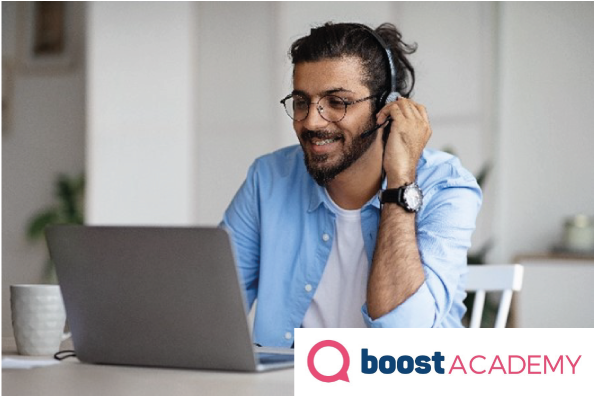 Today at Boost Academy we are talking about why Business English lessons are so important for your work and career. Learning Business English will not only help improve your communication skills in the office, but it will also teach you common expressions and phrases, plus the language necessary to negotiate, conduct meetings and get involved in important collaborations and projects. Let's now look at five reasons for doing it.
1. It improves your job prospects
As the world becomes more globalised, and the need to connect and communicate with international colleagues and overseas companies increases as a result, the need to speak English grows too. These days even small companies tend to do business with foreign partners.
English has been adopted as the common language between speakers whose native languages are different. Because so many employers now trade in an international environment, they're looking for workers whose English is good enough to operate at this global level.. So by improving your Business English, you will find doors open to you as new opportunities for work and travel appear. Plus, you will make yourself more attractive for promotion if you can participate in business meetings, give presentations and negotiate well in English.
2. It takes your general level of English to the next level
Learning Business English will help raise your current level of English overall, in addition to teaching you new things and increasing your knowledge. You will have the chance to learn new vocabulary, expressions and phrases, as well as learning how to write business correspondence in the right way. This means you will practice grammar and pronunciation in a context that you can relate to. You will grow in confidence as your speaking improves from practicing conversation in both general and business topics.
3. It will inform you about important trends
In class you will often study texts from real life journals and web articles which will tell you about all of the important things people are talking about, and what's been happening in the world of business.
4. Learn more about how the world of business works
Studying Business English will help you understand how collaboration between international companies works, and how they build professional relationships by working together.
5. Appear more professional
By speaking with the appropriate business language and specialist vocabulary, you will be taken more seriously by others in the workplace, including your boss!
Needless to say, this will require some effort, however with Boost Academy you only need to attend once or twice a week in order to make a start! And don't forget, with Boost Academy you won't even need to leave the house – you can study with us from the comfort of your own home as all our classes are online. Safe, convenient, and effective. What are you waiting for? Feel free to book a discovery call with us today to find out more: https://boostacademy.uk/index.php/packages/ We hope to see you soon!