Lucas Fox launches flagship Property Lounge in central Madrid
07/07/2017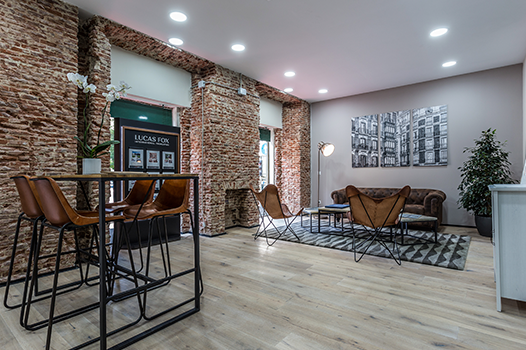 Lucas Fox is delighted to announce the opening of its new Property Lounge located in Calle Bárbara de Braganza 8 in the heart of Justicia, one of the Spanish capital's most desirable districts.
As part of a wide International Real Estate Company with offices all over Spain, Madrid office was established in 2014 and has had significant success in residential sales. The office has seen a 44% rise in sales transactions year-on-year in the first five months of 2017, the majority of which were by Spanish buyers (43%). Lucas Fox Madrid is currently home to 12 members of staff and will be taking on up to another 10 new employees within the next 12 to 18 months.
Prices in the Spanish capital are still significantly lower than during the peak in 2007, but are steadily increasing. Leading property portal Idealista shows a growth rate of 3% in the first quarter of 2017 compared to the same period last year. However price rises in the most desirable areas of the capital are well above the Madrid average – 9% in Chamberi, 8% in Salamanca and 10% in the city centre.
We are very excited to take the next step in the Lucas Fox expansion strategy with the launch of our Madrid flagship Property Lounge" comments Rod Jamieson, Managing director of Lucas Fox's Madrid and Barcelona offices. "We have extensive experience operating in this sought-after area of the city and we now look forward to offering our unparalleled expertise and knowledge of the local market from our new base in Justicia'.
For more information about buying property in Madrid please email madrid@lucasfox.com or call +34 912 900 182.