Wine Tour in Green Spain | Northwest Iberia Wine Tours
27/09/2017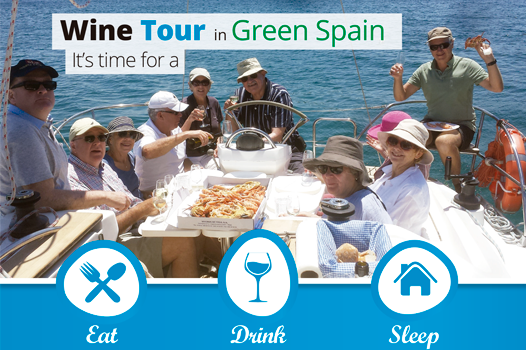 Why not come on a relaxing wine and food tour in Galicia, Spain's Celtic northwest fringe?
Noted for its rías or sweeping bays, many will be reminded of the west coast of Scotland or Ireland.
Close to the shores of these rías you'll find some of the loveliest wineries in Spain, where the vines sweep right down to the water's edge in places
Rías Baixas Albariño is now firmly acknowledged as one of the great white wines of the world while the seafood, described by the greatest chef in the world Ferrán Adriá as 'simply the best in the world', is the perfect pairing for Rías
Baixas Albariño and other excellent Galician whites such as Ribeiro and Godello.
Visit top wineries, especially the small independent winemakers whose wonderful single vineyard wines are currently making a name for themselves around the world. Dine at cutting edge restaurants and stay on beautiful wine estates and in elegant country hotels.
Eat
We'll show you the finest Galician cuisine, traditional and modern.
Drink
Taste the finest wines, from big estates to the small producers.
Sleep
Stay on lovely wine estates and elegant country mansions.
For more tour, packages and info visit: www.northwestiberiawinetours.com
Documentos adjuntos:
Folleto de Northwest Iberia Wine Tours